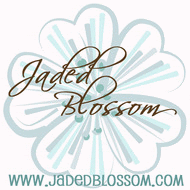 I am SOOO excited!!! EEEK!! I have been given the opportunity to be on the most talented design team--
Jaded Blossom Design Team!!
I just LOVE their stamps and dies!
I can't thank Michelle and Candace enough for giving me this opportunity!
Make sure you stop in at
Jaded Blossom
this weekend to get in on the celebration of their 1st Birthday! They have put together the most awesomest Birthday kit!